After seeing John and realizing he's the only one who's gone longer lately without posting, I couldn't lose, and be the last.
I don't have much.
Cornerstone was awesome. I do have a couple pictures from that (Alicia's, I haven't uploaded mine yet, that would require unpacking to find my port).
Myself, Alicia, and Mel, drinking some Yoohoos. They made me really sick (it was in the 90s every day). Despite the heat, I kept eating/drinking dairy. It was so stupid, because I got so sick every time.
Sam, myself, Mel, Tyler (Mel's boyfriend), and Alicia on our way to Wal-Mart to get some food for the week. Who knew five people could fit in my car? Tyler is actually a freshman with me at SVSU this year, and I'm pretty excited for that.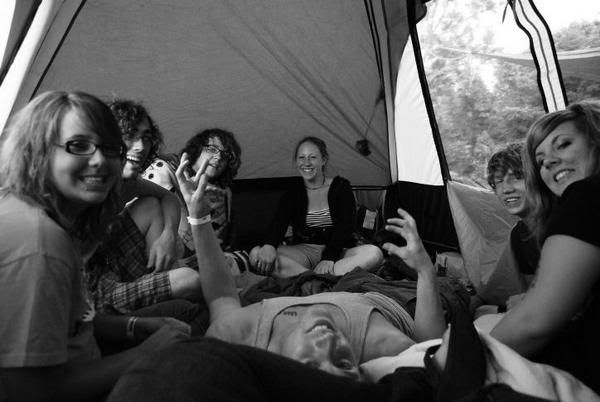 Mel, Tyler, myself, Amanda, Dave, and Sam (Brian is in the middle, on the floor). Alicia is the only one missing, because she took the picture. We were in the tent Alicia, Mel, Tyler, and I shared. And sometimes Sam. It was a big tent.
Sam used her hand to tease one section of my hair, and teased straw into it. I was unhappy.
All in all, a good week.